Socialization of Economy Creative Post-Earthquake Disaster In the village Margamukti, Pangalengan District, Bandung December 15, 2011
Pangalengan is located in the southern city of Bandung, which is known as agricultural areas, farms and plantations, as well as milk-producing are managed by KBPS (Farmers Cooperative of South Bandung). With the natural green and fresh air, Pangalengan is potential area to be used as eco-tourism destination.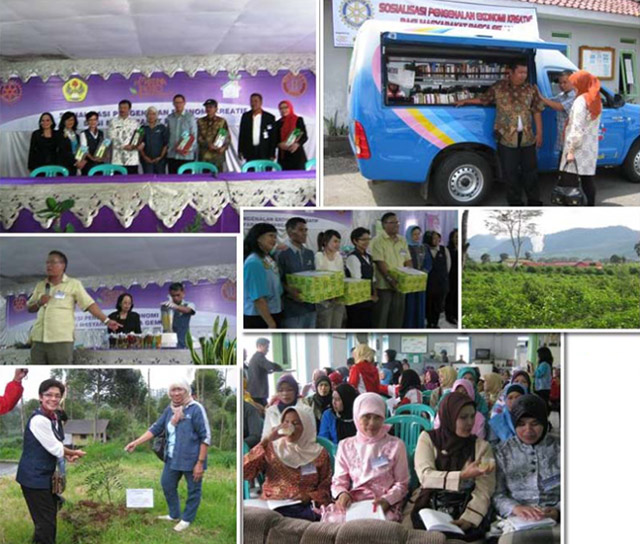 In the year 2009, this area was rocked by an earthquake measuring 7.6 magnitude, and still leaves unresolved homework. Especially how to revive the economy on post disaster, raise the people's income through the creative industries at the household level.

PT. Martina Berto Tbk. which is under the Martha Tilaar Group Companies join with Rotary Club Kota Kembang Bandung District 3400, held a creative economic socialization activities for people in the village of Margamukti, Pangalengan, which is outlined in a memorandum of understanding.

Socialization done by providing training on the environment, the use of herbal plants, public health, and making simple herbal café and health drink, which can be used as an alternative income for communities, as well as to re-energize the community in developing regions after the earthquake.

On this occasion, PT. Martina Berto Tbk. represented by the Director of CSR, Dra, Nuning S. Barwa, Apt.MBA also gave donations of books to the village libraries and planting trees together with President of Rotary Club of Kota Kembang Bandung, Prof.Dr.Ir. Tati L.E. Mengko.
This is one of Martha Tilaar Group responsibilities on natural conservation and community
development. Together we build and beautify the Indonesia!