Participation of Martha Tilaar Group On Bring Back The Glory of Indonesian Spices
Since ancient times, Indonesia known as spices islands. Its natural beauty and wealth in the herbs produces a magnetic reason to the Europeans to visit.Now, after centuries, the position of Indonesia became the world's supplier of spices began shifting.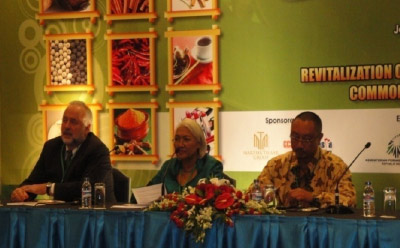 For example, Indonesia was known as Kina's number one supplier in the world, whereas now we are only at number six. So even for other spices such as cinnamon and nutmeg. In fact, contributed to be major importers.

To address these challenges and opportunities, and bring back the glory of Indonesian spices,
Directorate General of Foreign Trade, Ministry of Trade of Indonesia and Indonesian Spices Council (DRI) where Mrs. Martha Tilaar become one of Advisory Board held the First Seminar of International Spices and Congress, which took place at the Jakarta Convention Center, dated November 18 to 20,2011.

Opened with Djamoe Gendong dance performances and followed by the introduction of "Djamoe" as welcome drink to the audience, this event was in line with Martha Tilaar Group mission to preserve the nation's cultural traditions.

Delegates who attended the event were coming from Asia and European Countries, the Organization of International Spices, Herbs Exporters, Indonesian Spices Commodity Producers, Djamoe Industry, Food and Beverage Industry, Cosmetic Industry, The Researchers, Universities, and GovernmentOfficials who deal with the development of spices in Indonesia.

Through this activity, Martha Tilaar Group take on the role and responsibility to popularize back the old tradition that was almost abandoned, as well as bring back the glory of Indonesian spices.

BRAVO INDONESIAN SPICES, together we support the LOCAL WISDOM GO GLOBAL!